Are you a fan of pumpkin pie, but the thought of baking an entire one feels like a daunting task? If you're in the mood for a sweet treat, we have a simple and delightful solution for you – pumpkin pie in a mug. In just five minutes, you can whip up a single-serving of this autumn favorite that perfectly balances the taste of pumpkin, spices and a buttery crumb base. This microwaveable marvel is sure to satisfy your pumpkin cravings with minimal effort.
The Perfect Texture
This single-serve pumpkin pie in a mug falls somewhere between a classic pie and a soft sponge cake in terms of texture. It's a delightful, warm and comforting dessert, especially for those who adore the rich flavors of pumpkin and crave a quick and well-deserved sweet reward after a busy day.
Homemade Goodness
The flavor of the pumpkin truly shines through when you use homemade pumpkin puree in this recipe. Sweeten it with brown sugar and season it with a gingerbread spice mixture for that warm, autumn taste. Feel free to swap out sugar for honey, maple syrup or your preferred sweetener, and experiment with your homemade spice mix for a personalized touch.
Pumpkin Pie in a Mug Recipe
Ingredients for 1 Serving
1 teaspoon of unsalted butter
2-3 butter biscuits (about 14 grams), crumbled
1/3 cup of roasted butternut squash (or pumpkin)
1 large egg
1 tablespoon of milk
2 tablespoons of powdered sugar
1 teaspoon of gingerbread spice mix
Grated ginger to taste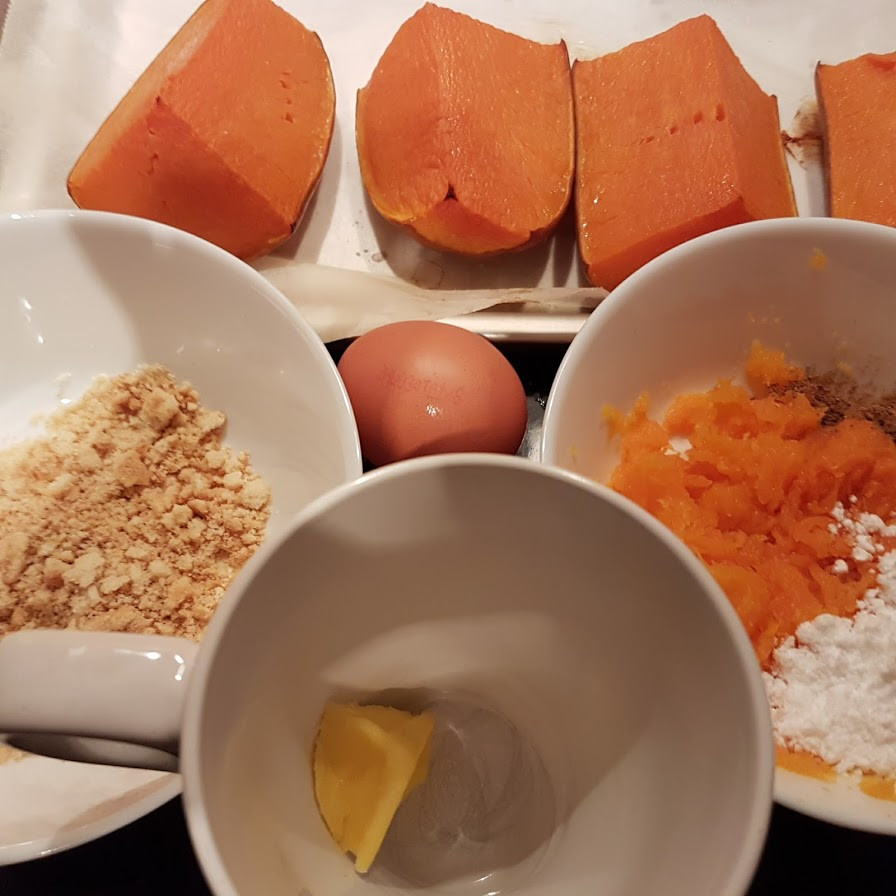 Preparation
Place the unsalted butter in a microwave-safe mug (at least 300 ml) and melt it in the microwave at low power. Add the crumbled biscuits, press them firmly onto the mug's bottom.
In a separate bowl, whisk together the pumpkin puree, egg, milk, sugar and the spice mixture. Pour this mixture over the butter-crumb base.
Set the mug on a microwaveable plate and cook at maximum power for 2-5 minutes, or until a knife inserted into the center comes out clean. Keep in mind that microwave times may vary, so start with 2 minutes and increase in 30-second intervals if needed.
Carefully remove the mug from the microwave using oven mitts. Allow it to cool for a few minutes, then garnish the top with whipped cream or coarsely crushed walnuts before serving. For an extra touch, you can add larger pumpkin pieces on top and drizzle honey over the finished pie.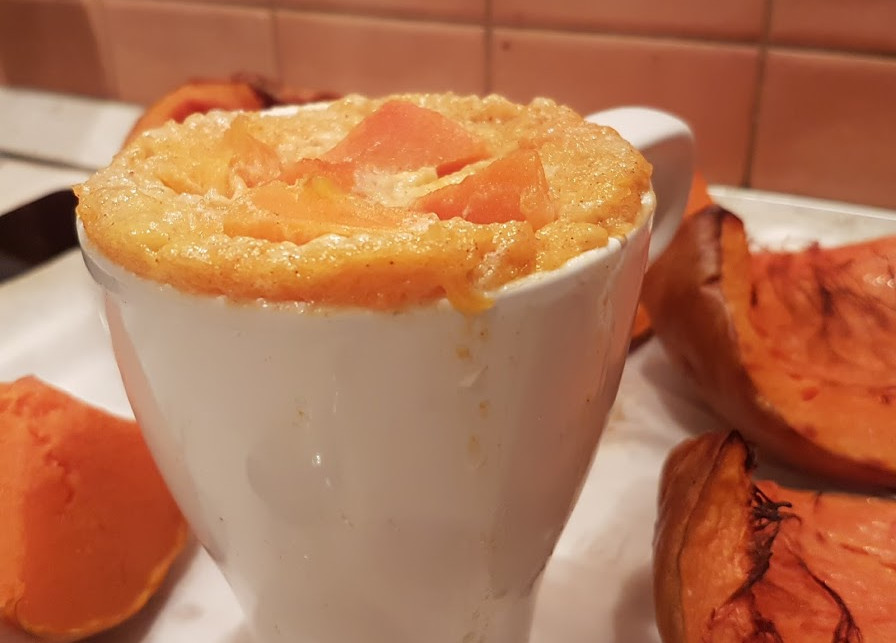 Pro Tip
If you're craving more than one serving, remember to prepare them individually; microwaving multiple mugs at once might not yield the best results.
This quick and easy pumpkin pie in a mug is the perfect way to enjoy the flavors of autumn without the hassle of a full-sized pie. With a warm, buttery base and the essence of homemade pumpkin, it's a treat you can enjoy anytime you want to indulge your taste buds. So, why wait? Dive into the world of microwave magic with this delectable single-serve delight.